Charles Mathes, President of Visibles, Inc., is an independent art appraiser and advisor. In addition to working with private clients as an expert in his specialties – modern tapestries, prints and Picasso ceramics – he has provided assistance to a European auction house, served on the vetting committees of prestigious art fairs, and consulted for the IRS..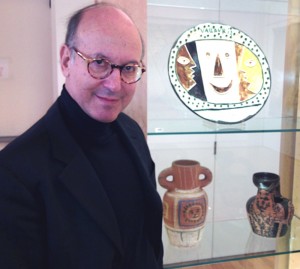 Charles began his career at Rodgers & Hammerstein where he headed the division that licensed theatrical rights of classic American musicals and collected and distributed millions of dollars in royalties. After a decade, however, Charles found he was more interested in Richard Rodgers' legendary art collection than in the business of theatre. He began the second act of his career by completing a Certificate in Fine and Decorative Arts at New York University and then apprenticing with Sylvia Leonard Wolf during her tenure as President of the Appraisers Association of America. For over twenty years he was Director of the Jane Kahan Gallery, a New York City art gallery established in 1973 and dealing in Modern Art prints, paintings, sculpture, tapestries and ceramics.
Charles Mathes has performed hundreds of appraisals of fine and decorative artworks for clients that have included museums, corporations, celebrities, insurance companies and private collectors. He is the author of several books including Treasures of American Museums [Mallard, 1991] and a series of art and antique-related mystery novels published by St. Martins Press. His expertise in modern art has been quoted in publications ranging from Art & Antiques magazine to The Financial Times of London. He has lectured on Picasso Ceramics, modern tapestries and other subjects to various art-related groups and has participated in art fairs in New York, Miami, Seattle, Los Angeles, Palm Springs, London, Vienna, Moscow and Dubai.
Charles Mathes is a Certified Member of the Appraisers Association of America. He has belonged to the organization since 1992.